Friends of Ferdinand Named an Official Aftercare Partner of Ellis Park
Friends of Ferdinand Named an Official Aftercare Partner of Ellis Park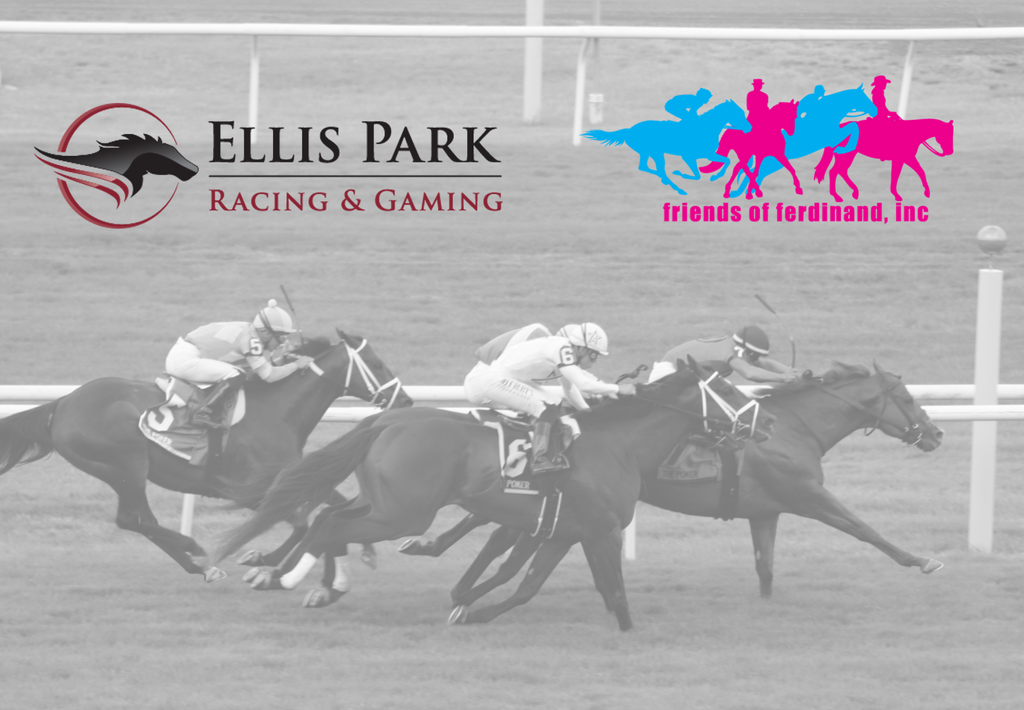 By Chelsey Burris
Friends of Ferdinand, Inc. (FFI) is thrilled to announce that they have been named as an official aftercare partner of Ellis Park.  This will expand FFI's reach in the racing world, promote education among horsemen about Thoroughbred aftercare, and create new networks to transition horses into second careers beyond the racetrack.
Located in Henderson, Kentucky just south of Evansville, Indiana, Ellis Park offers an exciting racing schedule each summer.  It celebrated its 100th anniversary last year.  The historic racetrack is owned by Churchill Downs Incorporated.
"We are thrilled to join forces with this great organization to promote our mission of aftercare," FFI President Erin Smith said.  "It is crucial for an organization like ours to build these relationships with racetracks, so that we can assist Thoroughbreds across the Midwest as they retire from their racing careers.  Our program focuses on retraining these wonderful and versatile horses, giving them a new skillset so they can be adopted into long-term homes as hunter/jumpers, dressage mounts, eventers, ranch horses, trail partners, and more."
FFI Marketing Director Chelsey Burris added, "As a longtime racing fan, joining the Churchill Downs family is a wonderful opportunity.  Churchill has been a big supporter of Friends of Ferdinand in the past, including their longtime sponsorship of our Virtual Derby fundraiser each spring.  I'm excited to see this partnership continue to blossom and to benefit more Thoroughbreds."
"The safety and welfare of our equine athletes both on and off the racetrack remains a top priority for us at Ellis Park," Matt Pressley, General Manager of Ellis Park Racing & Gaming, shared.  "We're thrilled to partner with Friends of Ferdinand who will help assist retired racehorses to their second careers"
Ellis Park will be hosting Thoroughbred Aftercare Day on August 13.  The race card will feature six stakes races, highlighted by the marquee Ellis Park Derby.  Friends of Ferdinand will have a booth at the track, where their representatives can meet with the connections of those in the racing industry who may want to donate their horses to the FFI retraining program.  They will also mingle with racing fans throughout the day to spread the word about aftercare and promote their currently adoptable horses.  Everyone is invited to attend what promises to be a wonderful day at the track.
You can learn more about Ellis Park Racing & Gaming here: https://ellisparkracing.com/
Friends of Ferdinand, Inc. (FFI) is a 501c3 non-profit equine organization that is dedicated to retired racehorses, and the only organization in Indiana that is accredited by the Thoroughbred Aftercare Alliance (TAA). Graduates from our program have gone on to have success in hunting/jumping, dressage, calf-roping, western riding, trail riding, and as therapy horses. We are run by a hardworking band of volunteers and assisted by trainers and veterinarians to give retiring racehorses everything they need to have long and happy second careers and lives.