Fun Days (and Nights!) at the Races
Fun Days (and Nights!) at the Races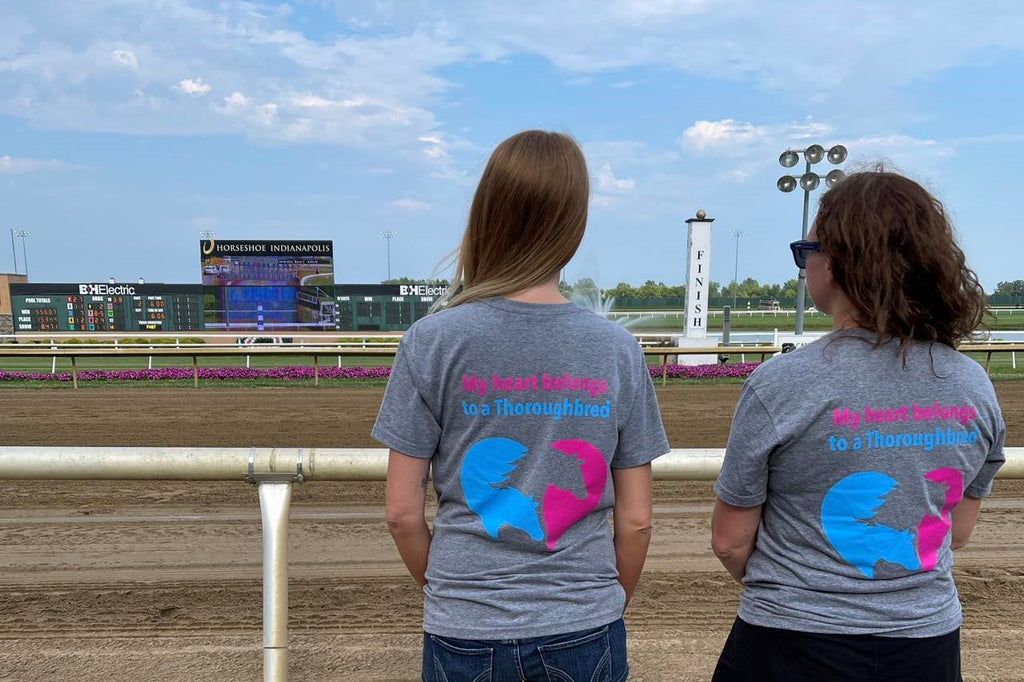 Friends of Ferdinand Marketing Director Chelsey Burris and Secretary Diana Cooper in the winner's circle at Horseshoe Indianapolis, preparing to watch a race named after our organization.
By Chelsey Burris
At Friends of Ferdinand Inc. (FFI), we love Thoroughbreds.  While we primarily see them in their second careers as they transition into hunter/jumpers, dressage horses, trail mounts, or ranch partners, we always enjoy the opportunity to see them up close in their first careers as racehorses.  Their athleticism on the racetrack is one of the things that makes them so versatile as riding horses.  It is important for us to work closely with racetracks around the Midwest to assure that we come to mind whenever trainers and owners have a horse that is retiring and looking for a new job beyond the track.
On August 13, reps from FFI were thrilled to be invited to Ellis Park in Henderson, Kentucky for Ellis Park Derby Day.  Ellis Park was highlighting Thoroughbred aftercare throughout the day, and as their newest official aftercare partner, we joined the fun by having a booth where we could talk to racing fans, owners, and trainers about our mission.  There were 6 Stakes races on the card, and aftercare organizations were highlighted throughout the day.

Sights from Ellis Park Derby Day
As part of our expansion into the Kentucky racing scene, we had brand new merchandise hot off the presses available – sunglasses, t-shirts, and hooded sweatshirts.  The logo on the back of the shirts, "My Heart Belongs to a Thoroughbred" with our Broodmare Bunch logo, were especially popular with attendees.
In Race #9, the RA Cowboy Jones Stakes, we got to enjoy a VIP view of the race from the winner's circle, before presenting the winning connections of Stage Raider, a good-looking 5-year-old colt by Pioneer of the Nile, with the trophy.
Friends of Ferdinand President Erin Smith and Marketing Director Chelsey Burris with the trophy of the RA Cowboy Jones Stakes at Ellis Park.
Our sincerest gratitude to all the folks at Ellis Park for making this new partnership possible!  We are thrilled with the opportunity to connect with additional racing connections to help assist even more horses as they retire from their first careers and look for a place for retraining for their second.
Aftercare remained in the forefront of everyone's minds the following weekend, when FFI headed to Horseshoe Indianapolis (formerly Indiana Grand) in Shelbyville, Indiana for Empire of Hope Day on August 19.  This night racing card, an annual event hosted by Horseshoe, is dedicated to raising funds and awareness for aftercare programs.
Sights from Horseshoe Indianapolis
Race #2 on the card, a maiden special weight, was named the Friends of Ferdinand race, and we got to cheer on the horses from the winner's circle.  Noneofyourbusiness, an Indiana-bred by Cloud Computing, won the race impressively, and we posed with her for a photo alongside the winning connections afterward.  Then, Horseshoe Indianapolis presented Friends of Ferdinand with a generous donation of $6,000 to support our horses and interviewed us about our mission.  We are so grateful for their longtime support of our program!
(Left) FFI reps pose for a photo of the winner of the race named for Friends of Ferdinand and (right) Horseshoe Indianapolis presenting a check to FFI to support aftercare.  Photos by Coady Photography
Our booth saw a steady stream of customers at Horseshoe, and we were thrilled to see folks walking around the track sporting our new t-shirts throughout the evening.
Check out a behind-the-scenes video of what it was like to be at the racetrack with us on Saturday!
Want to meet FFI reps and check out our new merch in person?  The next event on our calendar is the Retired Racehorse Project Thoroughbred Makeover in Lexington, Kentucky on October 11-14.
New FFI merch available at the races. We will have these items available for online orders soon!
Friends of Ferdinand, Inc. (FFI) is a 501c3 non-profit equine organization that is dedicated to retired racehorses, and the only organization in Indiana that is accredited by the Thoroughbred Aftercare Alliance (TAA). Graduates from our program have gone on to have success in hunting/jumping, dressage, calf-roping, western riding, trail riding, and as therapy horses. We are run by a hardworking band of volunteers and assisted by trainers and veterinarians to give retiring racehorses everything they need to have long and happy second careers and lives.