The Homecoming King of the Virtual Derby
The Homecoming King of the Virtual Derby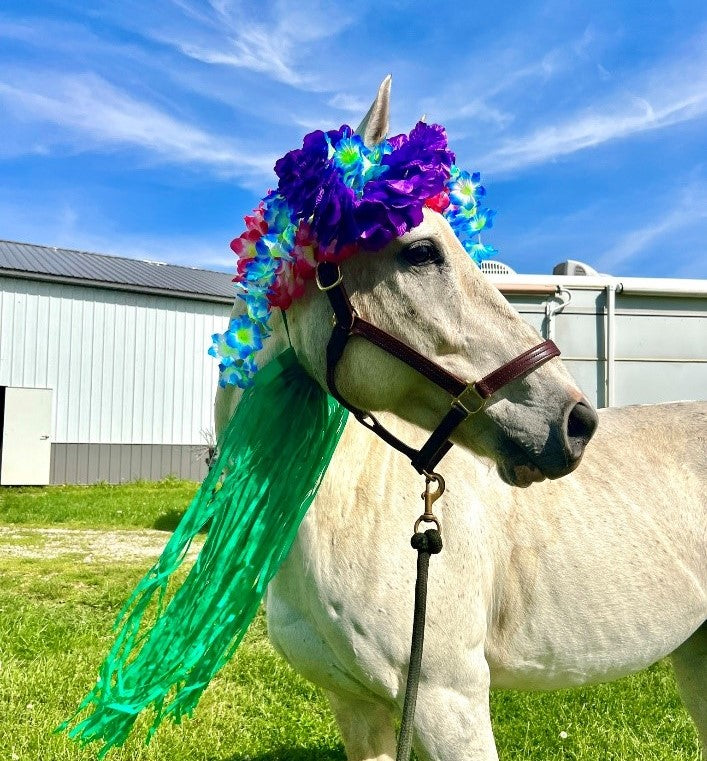 The Virtual Derby changed this gelding's life forever. In this year's edition, he paid it forward by breaking records to support other ex-racehorses.
By Chelsey Burris
When Heather Hoffmann saw entries open for the 2023 Friends of Ferdinand Virtual Derby, she knew she had the perfect horse for the race.  Standing outside in one of her paddocks was a big gray gelding whose life was forever changed from a past edition of the Virtual Derby.
            Held annually for the past four years to coincide with the Kentucky Derby, the Virtual Derby is a fundraiser to support Thoroughbred aftercare through the Indiana-based non-profit organization Friends of Ferdinand (FFI).  People are invited to enter their horses into the race, competing to see who can fundraise the fastest (and the most) to benefit ex-racehorses.  There are awesome prizes on the line including one-of-a-kind experiences, shopping sprees, and goodie bags from top equestrian brands.
Heather, of Churubusco, Indiana, has been a long-time supporter of the FFI retraining program, in roles from foster, to adopter, to Board of Directors Member.  Her life changed in a most unexpected way when she offered to foster a young, goofy 3-year-old Thoroughbred named Enough Said in July 2021.
Enough Said was young but had seen more in his life than most horses ever do.  He was bred in Florida and sold as a yearling in the Ocala Breeders Sales (OBS) auction for $15,000.  He never started a race in the continental US, instead being shipped to Puerto Rico to begin his racing career.  He was second in his maiden debut, before running two back-to-back sixth place finishes.  Unfortunately, his third race would be his last, as he sustained a career ending injury.
He now faced a very uncertain future.  Racehorses retiring on the island are in a perilous situation – with limited places to go to for long-term homes and few resources, a high number of them are tragically euthanized or abandoned.  But then, fortune shined on this gorgeous gray.  Some of the wonderful folks from Caribbean Thoroughbred Aftercare Inc., one of FFI's sister organizations accredited through the Thoroughbred Aftercare Alliance, brought him into their barn so that he'd be safe.  Then, they started reaching out to organizations on the mainland to find a place for him to go.
Hamilton in Puerto Rico, getting ready to be shipped back home.  The blue apparatus in the background is a special carrier that is loaded onto an airplane to help horses travel safely.
With funding support from a past edition of the Virtual Derby, FFI was able to step up to help Enough Said with his expenses of returning to the mainland.  Once his plane touched back home, he joined the FFI family, where he was an instant goofball who the whole team adored immediately. He needed some TLC after his travels and time to rehab from his injuries, which is when he settled into Heather's barn as a foster.
Shortly after Enough Said arrived to her farm, Heather lost her heart horse, Bisque.  Bisque was also a graduate of the Friends of Ferdinand program, but otherwise he was about as opposite as you could get from Enough Said.  While Enough Said was young, gray, and playful, Bisque was tall, dark, handsome, and regal.  Enough Said never stepped into the winner's circle as a racehorse, while Bisque had been named Indiana-Bred 2-Year-Old Colt of the Year in 2013.  Bisque's unexpected loss had devastated Heather.
Over the course of the next 5 months, Heather started to realize that the days always seemed a little brighter with Enough Said's energy around the barn.  He was consistently cracking her up with his little kid antics and impeccable timing of jokes on her and her husband, Darrell.  For such a young horse, he was confident, always friendly, and had a huge class clown personality.  While he could never step into the huge shoes Bisque had left behind, he was just what Heather needed, even though she hadn't realized that's what she needed at the time.
In a humorous twist, it was Darrell who first fell in love with Enough Said and who started to convince his wife that he thought the big gray should stay a permanent resident of the farm.  It was kismet and Heather couldn't resist – rather than send him back to Friends of Ferdinand to be adopted after his fostering time was over, she decided to adopt him.  Once he was officially a resident of Alcatraz Ranch, Enough Said was given the new barn-name of Hamilton.
Because funds from a past Virtual Derby directly benefitted Hamilton in finding his fairytale ending, Heather wanted to pay it forward by entering him in the race this year.
The field for the 2023 edition of the FFI Virtual Derby – the largest in history with 20 contenders
The biggest field in Virtual Derby history lined up to compete head-to-head for awesome prizes, all while supporting ex-racehorses.  Among the 20 entrants were the race's first ever mule competitor, an adorable foal who dreams of becoming a racehorse, several graduates from the FFI retraining program, a Standardbred ex-racer, show horses and riding buddies, and several runners in memory of beloved equines.  The 2023 runners represented 7 different states - Indiana, Illinois, Ohio, West Virginia, Georgia, Michigan, and Texas.
While the Virtual Derby already had three successful years in the books, no one expected the overwhelming amount of support the race would receive in 2023.  The virtual starting gate sprung open on Wednesday, May 3 at 6:30PM ET.  By the end of that evening, 11 horses had already crossed the finish line by fundraising their goal of $250.  The race had never seen so many runners hit the wire so quickly.  Over $4,000 were raised on the first night alone – another record-breaking feat.
Hamilton left the gate like a rocket and blazed past the finish line in first place by being the first horse to fundraise his goal of $250.  However, there is much more to the Virtual Derby than just crossing the wire.  The horse who raises the most total money during the race is named Grand Champion.  In addition to bragging rights, they also receive a coveted stall plaque from AZR Designs and the first choice of any of the prizes.  Hamilton and Heather could have rested on their laurels after winning the race; however, they decided to set their sights higher and go after Grand Champion honors as well.
Heather had the perfect plan for how to drum up support.  One of Hamilton's (many) talents is his been-there-done-that attitude.  Heather planned out different costumes for each day of the race, and not only did Hamilton never turn a hair, he enjoyed the fanfare!  Throughout the Virtual Derby, he would go on to pose as everything from Braveheart to a poodle to a jockey to a unicorn.  One day even saw him "caught" before he was camera ready in the middle of a spa treatment, with rollers in his hair, a shower cap on, and a cucumber face mask.  Folks adored the creativity Heather showed in campaigning him, and it showed!  Hamilton raised a whopping $3,477, smashing the previous record ever held by a single horse in the race.
Hamilton, showcasing some of the many fashion looks and vogue poses he struck during his campaign to become Grand Champion, awarded to the horse who raises the most total money during the race.
"I was floored by the number for people who have joined the Team Hamilton fan club," Heather shared after their victory.  "I was at a fundraiser for a local horse program during the Virtual Derby, and I had people I didn't even know come up to me and identify me as 'Hamilton's mom'. They were all so encouraging and sad when the daily posts stopped, but maybe not as sad as Hamilton, who loved playing dress up.  I am so thrilled for him; that he finally is recognized as the champion that he is and that he has found his Happily Ever After with me."
The youngest horse in the field at just 6 weeks old, Blanche Eldene claimed runner up honors in the 2023 Virtual Derby with a fantastic run.  Her owner, Chelsea Dexter, of Connersville, Indiana, has supported the race in the past as well, and was back this year with Virtual Derby veteran Emarzee (who finished fourth) as well as her new foal.  Like any feisty young filly, Blanche has the simpler things in life on her mind; Chelsea joked that Blanche probably thought she was just in line for butt scratches, her favorite thing, and that's what inspired her into such a great run!  Blanche Eldene can now set her sights on her future racing career - watch out Kentucky Oaks 2026, she's coming for you!  When describing why she supports this race year after year, Chelsea told us, "Sometimes your second career is just as important as your first."  With her continued support, Friends of Ferdinand can remain steadfast its mission to find long-term second careers and homes for retiring racehorses.
6-week-old Blanche Eldene was runner up in the race
New-comer River (Jockey Club name: Deep Gulch) made a big impact in his inaugural run in the Virtual Derby.  Marcey Bartholomew of Orland Park, Illinois entered this off-track Thoroughbred to compete in the race.  The versatile horse, who has found success beyond the track as an eventer, hunter/jumper, and dressage mount proved he had another talent – running in the Virtual Derby!  He jetted to a third-place finish across the wire, then gave chase to Hamilton for Grand Champion honors.  In our most hotly contested Grand Champion race ever, that duo traded the lead back and forth throughout the race.  River was ultimately narrowly beaten for that prize, but he now adds his name to the history books, as he holds the record for the second highest amount raised by a single horse with $3,433.  Truly a photo finish between him and Hamilton.
Third place finisher River
"I am glad River was able to assist in the fundraising aspect of the program to assist with OTTB's," Marcey shared.  "I believe that there is life after the track."
Rounding out the field were Emarzee, Doris' Diamond, Coffee, Boytown, Rooster, a runner in memory of Wild Dimension, Derby Express, a runner in memory of Blackjack, Moose, Mitos Y Leyendas, Mr. Bartlett, BackDraft, a runner in memory of Ferdinand, Aviva, Astrid, Love this Trick, and a runner in memory of Non Prime.
The race ultimately raised $14,150.  An anonymous donor stepped forward to match the first $5,000 raised, and past FFI President Sara Busbice offered an additional $1,000 in matching.  This brought the Virtual Derby's total to $20,150, nearly twice as much as its previous record!
The average cost of bringing a racehorse from the track, providing it with any surgery and/or rehab it may need, retraining it through the FFI program, and finding it a home is around $3,000.  That means this year's Virtual Derby has the potential to fully fund SIX new horses through the program and help them find long-term homes beyond the track, with some money left over for the residents already in our barn.  For a relatively small organization like FFI, everyone's support makes all the difference.  We wish to send our most heartfelt thanks, from our team and our horses, to everyone who supported the race – from those who entered their horses to compete, all our donors, the sponsors who stepped forward to provide prizes, and everyone who liked/shared/commented to spread the word on social media.
Virtual Derby Grand Champion Hamilton and his adopter, Heather
Next year will be the 5-year anniversary of the Virtual Derby – if you want to be involved as a sponsor of a prize, a competitor, a donor match, or have other ideas, reach out to our race coordinator at chelsey@friendsofferdinand.com.
If you'd like to learn more about the Friends of Ferdinand program or find your own dream horse to adopt, just like Heather did with Hamilton, visit our website at https://friendsofferdinand.com/