The 2023 Friends of Ferdinand Virtual Derby!
The 2023 Friends of Ferdinand Virtual Derby!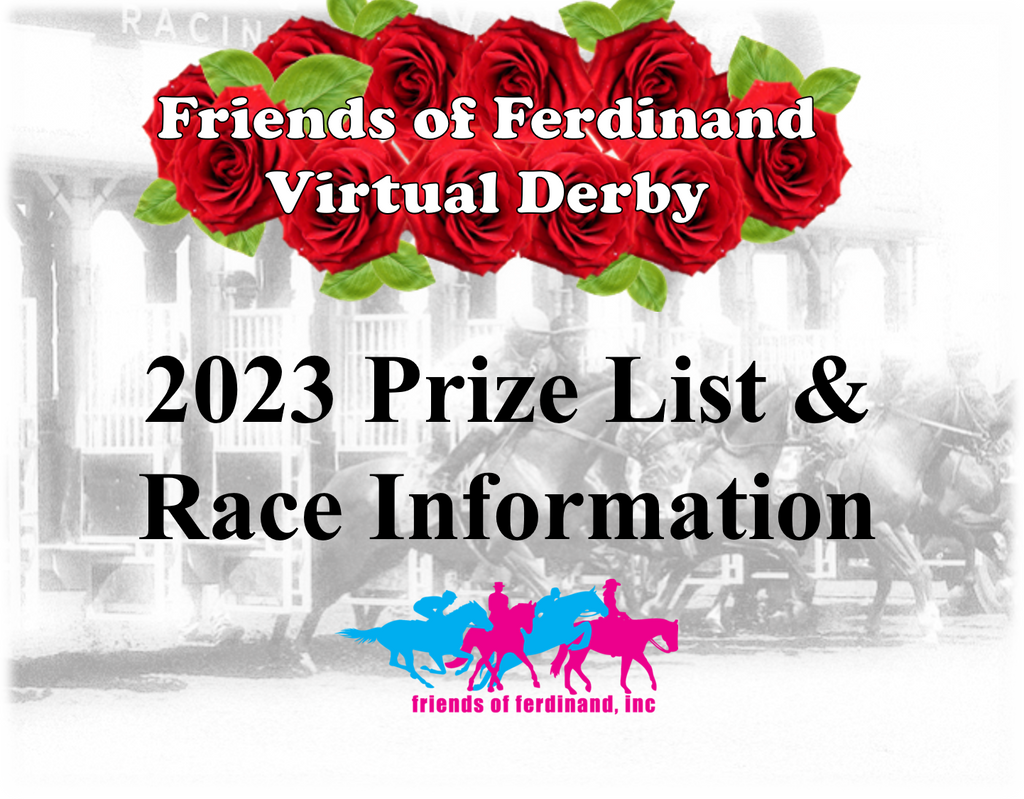 Welcome to the most exciting virtual horse race out there!  You are invited to support a horse in this fun and interactive fundraiser, with all proceeds supporting real-life ex-racehorses in the Friends of Ferdinand, Inc. retraining program.  Learn about the race, meet the competitors, see how to support your favorite horse, check out the awesome prizes on the line, and more below!
HOW THE RACE WORKS
The Virtual Derby will last for two weeks – from Wednesday, May 3 to Wednesday, May 17. To cross the finish line, a horse needs to gain $250 in total donations in his or her name.
Additionally, the horse who raises the most total money during the two-week race period will be crowned the Grand Champion and will receive first choice of any of the prizes.
An anonymous (and very generous!) donor has stepped up to match the first $4,000 raised, so for each donation, you are doubling your impact on the lives of ex-racehorses! 
HOW TO ENTER A HORSE
Entries have closed for 2023. Browse the horses who are running below, choose your favorite, and support them in the race with a donation!
I WANT TO SUPPORT A HORSE IN THE RACE.  HOW DO I DO THAT? 
You can donate to support your favorite horse in the race in one of three ways:
WHO BENEFITS?
All the proceeds from this fundraiser will go directly to the horses in the Friends of Ferdinand, Inc. retraining program. The race may be virtual, but the impact is very real.  From the funds raised in last year's Virtual Derby, we were able to bring several new horses into our retraining program.  Meet two of them here.
Rainbow Ridge
This sweet gelding was donated to our program, but he came with one major catch - his left eye was injured. Whatever had happened to him seemed to be very recent, as he was extremely spooky on that side due to the change in his vision.  When we agreed to take him, we knew his path could lead several places, all the way up to surgery or even eye removal.  Thanks to the funds raised in the 2022 FFI Virtual Derby, we felt confident in being able to provide for him medically, as well as to fund a stall for him while he had time to adjust to being blind in one eye. It took some TLC and patience, but Rainbow Ridge (or as we call him, Beau) has come around a lot since he's been in our stable.  After a careful vet evaluation, he has been cleared to begin retraining soon, and you can look for this one-eyed wonder horse to be available for adoption in the near future!

Ima Barrel Racer
This pretty 5-year-old mare has a funny name for a Thoroughbred racehorse – but who knows, maybe a career as a barrel racer is in her future!  Ima needed a soft-landing place after coming of the track with a pelvis fracture.  The Friends of Ferdinand program was the perfect fit for her, and she's been resting, recovering, and rebuilding muscle at one of our foster's barns.  With an injury like hers, we knew she'd need months of rehabilitation before she'd be able to begin retraining, meaning a long period of board, feed, farrier/vet care, etc before she could be listed for adoption.  Having funds available from the 2022 edition of the FFI Virtual Derby made a crucial difference in our ability to accept Ima into our program, and we sure are glad she has joined us.  She is a complete sweetheart that her foster family already adores, and we are so excited for the vet to clear her to begin her new career as a riding horse soon. 
MEET THE 2023 COMPETITORS
The field is set for the 2023 Friends of Ferdinand Virtual Derby! It's the biggest field in Virtual Derby history, with a whopping 20 runners! They are a diverse group: we have our first ever mule competitor, an adorable foal who dreams of becoming a racehorse, several graduates from our retraining program, a Standardbred ex-racer, show horses & riding buddies, & several runners in memory of beloved equines.
This year's entrants represent 7 different states (Indiana, Illinois, Ohio, West Virginia, Georgia, Michigan, & Texas!)
Get to know this year's Virtual Derby field in this photo gallery!
WHAT'S IN IT FOR THE RUNNERS? PRIZE LIST!
Awesome prizes from Coolmore America, Churchill Downs, Breeders' Cup, Sue Machnik, Manager, The Riding Store, Woodridge, Illinois, SmartPak, Chewy, Thoroughbred Aftercare Alliance (TAA), Alcatraz Equine Bodyworks, Kimry Jelen Fine Art, Rustic Cactus, US Eventing Association (USEA), Cedar Creek Winery, Chick's Discount Saddlery, Orchard Country Store, Horse Country, United States Dressage Federation, Tractor Supply Co., Dover Saddlery, and AZR Designs are up for grabs.  From one-of-a-kind experiences, to shopping sprees at top equestrian brands, to goodie bags filled with swag, you won't want to miss out on your chance to win these prizes!
Browse the prizes below:
Private Tour of Ashford Stud
Visit the home of Triple Crown winners American Pharoah and Justify! You and up to 5 guests will get to experience the historic farm in Kentucky's bluegrass country with an exclusive behind-the-scenes tour, meeting some of the world class stallions that call Ashford home. This prize is sponsored by Coolmore America.
The Ultimate Horseracing Fan Experience –
A millionaire's row excursion to Churchill Downs will thrill one participant and up to 7 of their friends and family members. You will receive a table on Millionaire's Row at Churchill Downs - the home of the Kentucky Derby. Enjoy a day at the races, complete with a chef's table lunch/dinner, reserved seating, and 8 racing programs. Learn more about the history of the Kentucky Derby with your 8 passes to the Kentucky Derby Museum. This package can be redeemed during the 2023-2024 racing season (some exclusions on dates apply). This prize is sponsored by Churchill Downs.                                                
Racing Addict Goodie Bag –
Wonderful items from the World Championships of horseracing, and perfect for any fan of the sport of kings. Whether you're at the racetrack or just out and about, the beautiful Rebecca Ray Designs bag is a stylish must-have for your collection! Show your love for the year-end championships of racing with this prize, with swag like a hat, tumbler, a hardback book by Eddie Olczyk, some surprise gifts from Montblonc, and other neat goodies. This prize is sponsored by the Breeders' Cup World Championships.
Luxurious LeMieux Prize Pack
It's almost show season, so we are just in time with this prize!  This gorgeous LeMieux dressage pad and matching leg wraps set will look great on any color of horse.  It also comes with a bling ballcap, to boot.  Known for their high-quality items, give you and your horse the ultimate riding experience with this prize.  This prize is sponsored by Sue Machnik, Manager, The Riding Store, Woodridge, Illinois.
SmartPak Shopping Spree –
Who doesn't love shopping at SmartPak? With a $150 gift card to the SmartPak online or in-person store, you can stock up on all your essentials leading into show season. Shop top selection of quality supplements, tack and apparel carefully chosen by riders, barn essentials, and so much more. From the feed room to the tack room, you can find everything you need with this shopping spree! This prize is sponsored by SmartPak.
Cherishables from Chewy–
Your horse deserves the best! Give it to them with these items from Chewy that they will cherish.  With some delicious treats, a salt lick with rope, a handy grooming kit with a variety of brushes and hoof picks, a Weaver lead shank, and a beautiful Weaver grooming kit bag, you and your equine partner will be spoiled and happy.  This prize is sponsored by Chewy.
OTTB Obsessed Swag Bag –
This prize is the best way to show off your love for the magical unicorns we all know and love: Off-Track Thoroughbreds! This goodie bag contains a tumbler, hat, TAA-magazine, some adorable TAA-branded socks, sunglasses, a hoof pick, and pens. It also includes a lovely Dover-brand saddle pad.  This prize is sponsored by Thoroughbred Aftercare Alliance
Masterson Method® Bodyworks Session –
The Masterson Method® Bodyworks Session isn't just a prize for you – it's for your equine best friend! Alcatraz Equine Bodyworks uses The Masterson Method, Integrated Equine Performance Bodywork to improve performance and relaxation in horses. This unique bodywork modality works with your horse to release tension in key junction points of the body that most affect performance. This prize is available to folks within a 150-mile radius of Fort Wayne, Indiana. This prize is sponsored by Alcatraz Equine Bodyworks.
Terrific Tote with Unique Art
Show off your exceptional style with this fabulous tote bag from artist Kimry Jelen.  Kimry is known for her colorful, unique, and gorgeous works, many including horses.  This particular tote bag features her "Group Hug" artwork, and is the perfect size to show off your love for equines on any outing.  This prize is sponsored by Kimry Jelen Fine Art.
Amazing Ariats –
When it comes to trusty boots, the first brand that comes to mind for many horse people is Ariat.  They're durable, comfortable, and also look great.  Our friends at Rustic Cactus have stepped up to offer two pairs of Ariat boots as prizes – an Extreme Zip Paddock H2O Insulated Boot (Women's Size 8) and a Devon Nitro™ Paddock Boot (Men's Size 8).  These two prizes are sponsored by Rustic Cactus.
Eventer's Shopping Spree–
This shopping spree is a must-have for our adrenaline-loving friends who are all about eventing! With your $100 gift certificate to the United States Eventing Association online store, fill your cart with gear that shows your love for the sport. Clothing, gift items, books, and more are available to you with this gift card. This prize is sponsored by United States Eventing Association, Inc. (USEA).
Private Wine Tasting –  
Talk about a classy and fun way to spend an afternoon or evening with friends!  Enjoy a tasting party for up to 25 people at the beautiful Cedar Creek Winery, located in Martinsville, Indiana. You will receive up to 6 free wine tastings and 2 free beer tastings per guest. This prize is valued at $300.  This prize is sponsored by Cedar Creek Winery.
English or Western Shopping Spree –
Whether you ride English or Western, you'll find everything you need at Chick's Discount Saddlery with a $50 gift certificate. Their huge selection of items makes them America's best source for discount mail order saddlery and horse equipment. Make sure you check for their overstock deals to get the most bang for your buck! This prize is sponsored by ChickSaddlery.com.
Summer Essentials Goodie Bucket –
Everything you need to care for your horse this summer!  This prize includes treats, a sweat scraper, fly spray, lice duster, and a digestive treat supplement, all in a nice bucket that will come in handy around your barn.  It also comes with a beautiful Nocona Belt Co. belt buckle.  This prize is sponsored by Orchard Country Store.
An Unforgettable Tour for 4 People –
Fun and adventure awaits!  Learn about racing, breeding, or other horse care at a venue of your choice.  From farms where future racehorses are born and raised, to world class veterinarian institutes, beautiful racetracks, historic feed companies, and more, choose your own adventure. This prize is sponsored by Horse Country.
US Dressage Finals Fanatic Package –
The US Dressage Finals Fanatic Package celebrates the signature event of the dressage world. It features an insulated cooler tote bag, a US Dressage Finals hat, tumbler, USDF stickers and magazines, as well as the book "Beyond the Track" about retraining ex-racehorses. It also includes the "Circle Points" DVD featuring renowned trainer Walter Zettl and a set of spurs. This prize is sponsored by United States Dressage Federation (USDF).
Dressage Lover's Dream Pack –
This prize is perfect for any dressage lover. Improve your scores with tips from the coveted DVD box set "A Matter of Trust" featuring Walter Zettl, and study up on dressage dynamics with the book "When Two Spines Align". The package is complete with a hat, USDF stickers and magazines, a handy tote bag, and an interesting book about some origins of dressage in military training. This prize is sponsored by United States Dressage Federation (USDF).
TSC Buckets of Fun –
Must-haves going into summer for your barn – some delicious treats for your horse, a lead rope, a brush, and a Mane 'n Tail triple action packet with shampoo, conditioner, and hoofmaker.  It all comes in a large sized handy-dandy bucket.  This prize is sponsored by Tractor Supply Company.
Dover Shopping Spree –
Dover Saddlery is famous for its high-quality English tack and accessories.  With this $150 gift certificate, stock up on favorites from riding apparel, to boots and chaps, or stable or horse care supplies.  Coveting a new bridle or gorgeous saddle pad for the upcoming show season?  Choose from their many styles online and have it shipped right to your door – you can even build a custom bridle in just 4 easy steps. This prize is sponsored by Dover Saddlery.
Customized Stall Plaque –
The horse who finishes the race first and the horse who raises the most total money will also both receive a customized stall plaque, sponsored by AZR Designs Indiana
I HAVE SOME QUESTIONS – WHO DO I CONTACT?
Please reach out to our race's coordinator, Chelsey Burris at chelsey@friendsofferdinand.com.  She will be happy to help you!