The 2022 Friends of Ferdinand Virtual Derby!
The 2022 Friends of Ferdinand Virtual Derby!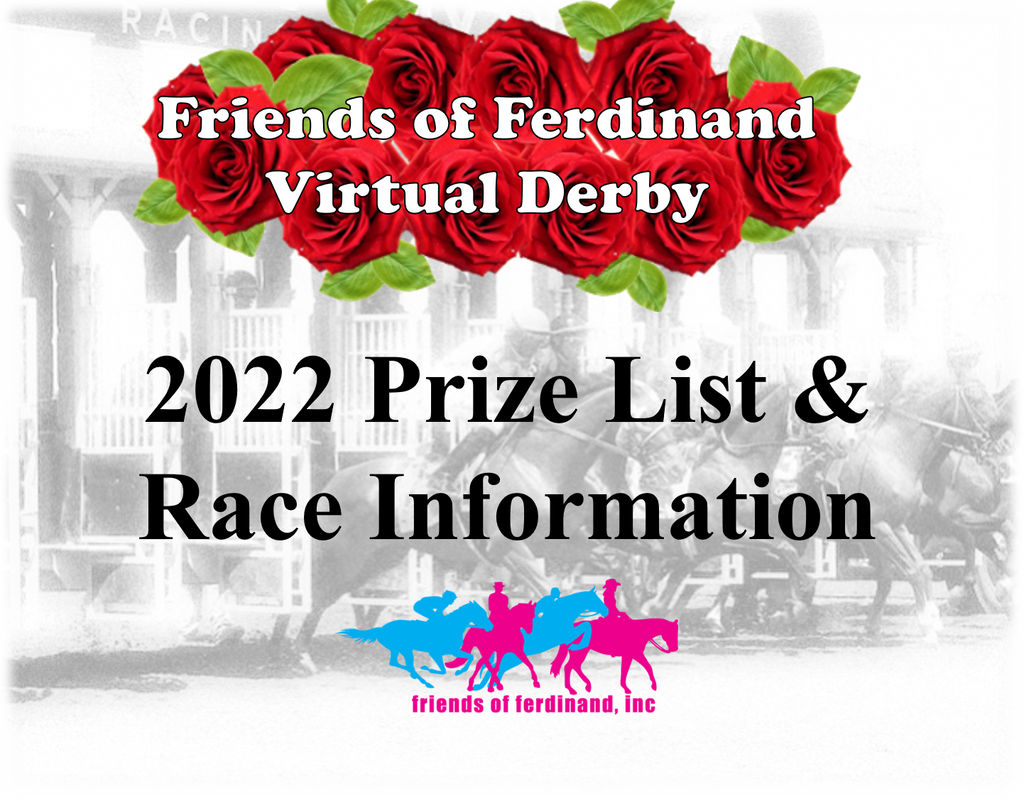 Welcome to the most exciting virtual horse race out there!  A big field of 14 will compete against each other to win awesome prizes, with all proceeds supporting real-life ex-racehorses in the Friends of Ferdinand, Inc. retraining program.  Learn about the race, how to support your favorite horse, what the prizes are, and more below!
HOW THE RACE WORKS
Entries for the race have now closed. The Virtual Derby will last for two weeks – from Wednesday, April 27 to Wednesday, May 11. To cross the finish line, a horse needs to gain $250 in total donations in his or her name.
Additionally, the horse who raises the most total money during the two-week race period will be crowned the Grand Champion and will receive first choice of any of the prizes.
HOW TO ENTER A HORSE
Entries are now closed for 2022.  
I WANT TO SUPPORT A HORSE IN THE RACE.  HOW DO I DO THAT? 
You can donate to support your favorite horse in the race in one of three ways:
MEET THE CONTENDERS
Here are the horses vying for prizes and bragging rights in the 2022 FFI Virtual Derby!  
They are a diverse group: from an active racehorse, to show horses & riding buddies, to graduates from our program, to an adorable mini donkey defending her "donkey husband's" previous Virtual Derby victory, to retired racehorses ready to re-live their glory days, to runners entered in memory of beloved horses, to a horse currently in retraining in the Friends of Ferdinand program. We even have the son of a Triple Crown winner in our field this year! 
This year's entrants represent 5 different states (Indiana, Ohio, Kentucky, Illinois, & Connecticut).
Get to know this year's Virtual Derby field below.
WHAT'S IN IT FOR THE RUNNERS?
Awesome prizes from Churchill Downs, Breeders' Cup, United States Dressage Federation (USDF), Thoroughbred Aftercare Alliance (TAA), Alcatraz Equine Bodyworks, US Eventing Association (USEA), US Hunter/Jumper Association, Coolmore America, SmartPak, Chick's Discount Saddlery, Cedar Creek Winery, Swifty Farms, and AZR Designs are up for grabs.  From one-of-a-kind experiences, to shopping sprees at top equestrian brands, to goodie bags filled with swag, you won't want to miss out on your chance to win these prizes!
Browse the prizes below:
 WHO BENEFITS?
All the proceeds from this fundraiser will go directly to the horses in the Friends of Ferdinand, Inc. retraining program. The race may be virtual, but the impact is very real.  From the funds raised in last year's Virtual Derby, we were able to bring several new horses into our retraining program.  Meet two of them here.
Sheila 
Our sweet Sheila.  When she came to us, she was just known as "unnamed filly #2."  She had been at a farm for her 3 years on this planet, but had never been ridden, or really even worked with or handled. She entered our barn semi-feral, wide-eyed, and afraid.  A filly like her, that needs to learn everything about trusting people, in addition to being taught how to ride, is a challenge that is going to take a lot of time.  Because of the funds raised during the 2021 Virtual Derby, we have plenty of resources to fund a spot in our barn for her, so that our trainer, Brandon, can take things at Sheila's pace. So far, she has proven to be timid but sweet. She's pictured with Brandon.  We are looking forward to the first time she ever wears a saddle or carries a rider – and we will let her decide when she's ready on her own terms.
Mongoose Gold 
Friends of Ferdinand launched something new and exciting in 2021 – the Broodmare Bunch! This new facet of our retraining program focuses on assisting broodmares in finding new careers as riding horses, after their time being a racehorse and a mother are over.  This is one of the first, if not the first, Thoroughbred program in the US to focus on broodmares, who can often be
at-risk when their breeding careers are over.  The beautiful mare pictured above is Mongoose Gold, and she's one of first members of the Broodmare Bunch.  Born in 2004, she was a successful racehorse, winning 8 of 33 races and banking over $250k in her career.  She then retired from the track, and had 6 foals, including two very successful runners who have earned over $100k each.  She was responsibly retired from breeding by her owners, who look forward to her enjoying her golden years with a person who can dote on her.  She is pictured above with our head English trainer, Lori.
I HAVE SOME QUESTIONS – WHO DO I CONTACT?
Please reach out to our race's coordinator, Chelsey Burris at chelsey@friendsofferdinand.com.  She will be happy to help you!
 The Virtual Derby is fun, interactive, and raises money for a very good cause.  What are you waiting for? Choose your favorite horse and support them now!