Year 3 of the Friends of Ferdinand Virtual Derby Our Best Edition Yet
Year 3 of the Friends of Ferdinand Virtual Derby Our Best Edition Yet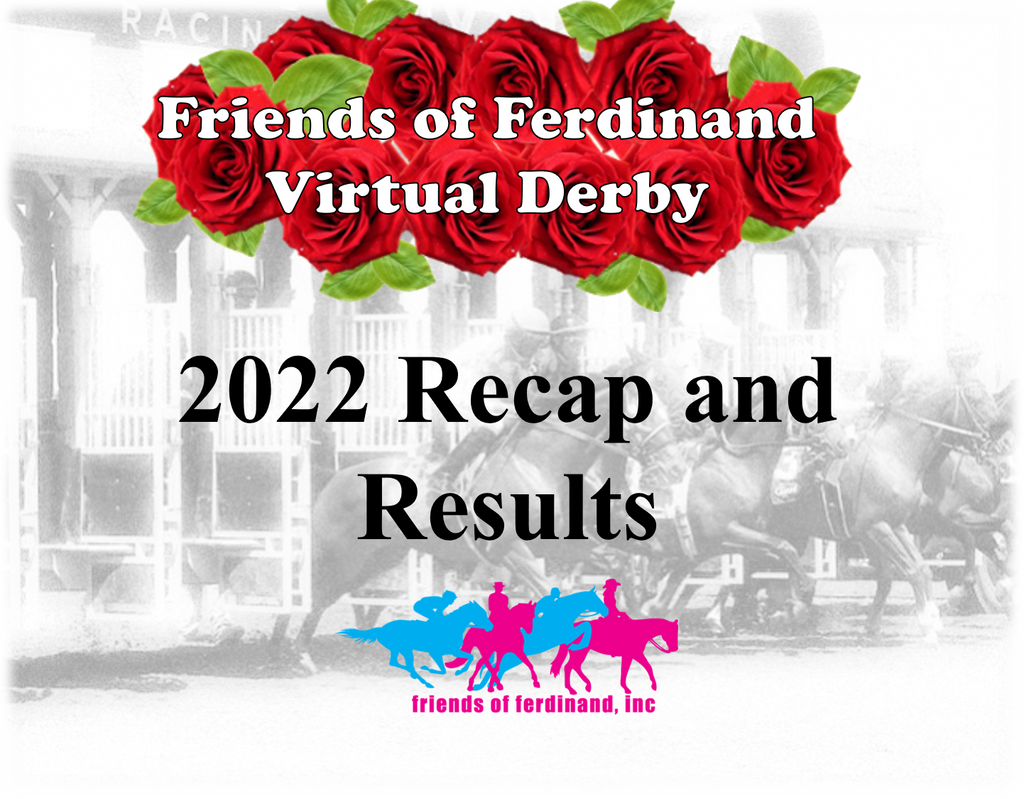 By Chelsey Burris
Since its inaugural running in 2020, the Friends of Ferdinand Virtual Derby has become an annual event to look forward to, as well as a successful fundraiser for the non-profit.
The Virtual Derby uses social media, where Friends of Ferdinand, Inc. (FFI) invites followers, friends, and fans to enter a horse to run (virtually, of course!) in a race to raise money for Thoroughbred aftercare.  To reach the finish line, each horse needs to fundraise $250.  Not only does the race benefit real life ex-racehorses, but the participants vie for awesome prizes donated by the race's sponsors.  In an exciting twist for the 2022 edition, an anonymous donor offered to match up to $5,000 raised in the Virtual Derby!
In was our largest race ever, with a field of 14 lining up in the virtual starting gate for the race to begin on Wednesday, April 27.  All breeds are welcome in the Virtual Derby, and this year, the race featured a donkey, some current and ex-racehorses, and several runners in memory of a beloved horse.  Out of the gate like a rocket, the plucky donkey Mrs. Churchill, entered by Kristyn Ceruti Rubet, crossed the finish line first by raising $250 the most quickly!  Last year, Mrs. Churchill's "donkey husband" Mr. Churchill won the Virtual Derby, and so the title and bragging rights remain at their stable for another year!
The winner of the 2022 FFI Virtual Derby - Mrs. Churchill! 
It was a photo finish, with the runner in memory of Bisque finishing the race just after Mrs. Churchill.  Bisque was one special horse - a graduate of the Friends of Ferdinand retraining program, a fantastic ambassador for Off-Track Thoroughbreds, and the absolute heart horse of his human, Heather Hoffmann. He is greatly missed in the FFI family, and we were thrilled to see him have such a strong showing in the Virtual Derby!
Emarazee, entered by Chelsea Dexler, rounded out the top three.  The son of Belmont winner Empire Maker is a huge fan of the R&B singer Usher – we have a feeling a party with lots of treats and Usher music was awaiting him after his great performance in the race.
The runner in memory of Ferdinand finished fourth.  Entered by Sue Machnik, this horse was very sentimental to our organization.  He was a champion racehorse, winning both the Kentucky Derby and the Breeders' Cup Classic.  Sadly, he met his fate in a Japanese slaughterhouse at the end of his stud career. Out of this tragedy, many improvements were made to keep ex-racehorses safe. It directly led to Friends of Ferdinand being founded. We are proud to assist many retiring ex-racehorses find secure, long-term homes in Ferdinand's honor.
Coming home in fifth place was First Pharoah for owner Taylor Wienold.  He looked very much like his sire, American Pharoah, flying down the stretch.  In sixth place was Goldenite, entered by Michael Klingler, while MaKenna and Chet Cromer's Hijacked N Royal nabbed seventh place. 
Friends of Ferdinand's very own Haynesfield Best, a current adoptable in our retraining program, brought home eighth place honors, followed by the runner in memory of Glory (entered by Lisa Metcalf) in ninth. 
Leigh Miracle's Is That Jack finished tenth, followed closely by Filly Named Billy (entered by Susan Milde) in 11th.  All 11 of these runners hit the finish line, by raising $250 in donations under their name, within the first two days of the race being run!  At this point, over $5,000 had been donated in total for the Virtual Derby, almost enough money to bring and fully fund two new ex-racehorses through the FFI retraining program!
Onward the runners continued, with Sissy, entered by Wendy Brown, crossing the finish line next in twelfth place.  She was followed by Lori Miller's Zed in thirteenth place, and Chasing Time, running for Lori Miller and the MyRacehorse Team, rounded out the field.
The results of the race were beyond belief for a small organization like ours.  In just its third year, the FFI Virtual Derby raised $11,466 - much more than the original goal, and enough to bring several new horses into the FFI barn! 
By raising $1,315, the runner in memory of Bisque and owner Heather Hoffmann were awarded the Grand Champion prize, which goes to the horse who raised the most money in total during the race.
Two of the real-life ex-racehorses directly impacted by the 2022 FFI Virtual Derby.
The FFI Virtual Derby is a lot of fun, with folks sharing posts on social media to rally for their entrants, and followers choosing their favorites to root on during the race.  And although the race itself might be virtual, the direct impact is real!  Funds raised from the 2022 FFI Virtual Derby helped to benefit many of the horses in the Friends of Ferdinand retraining program. Horses directed impacted included the handsome Rainbow Ridge, where the funds helped with diagnosing and treating an ailment that left him blind in one eye, and the lovely mare Ima Barrel Racer, where the funds raised helped pay for her rehabilitation from a fractured pelvis.  
A huge thank you to our 2022 sponsors: Alcatraz Equine Bodyworks, AZR Designs Indiana, Breeders' Cup, Cedar Creek Winery, Chick's Discount Saddlery, Churchill Downs, Coolmore America, SmartPak, Swifty Farms, Thoroughbred Aftercare Alliance, United States Dressage Federation, United States Eventing Association, and United States Hunter Jumper Association for providing wonderful prizes, and for their support of Thoroughbred aftercare!
Interested in being involved in the 2023 edition, as a sponsor, participant, or donor?  Contact chelsey@friendsofferdinand.com to get involved!