Friends of Ferdinand Welcomes New President Erin Smith
Friends of Ferdinand Welcomes New President Erin Smith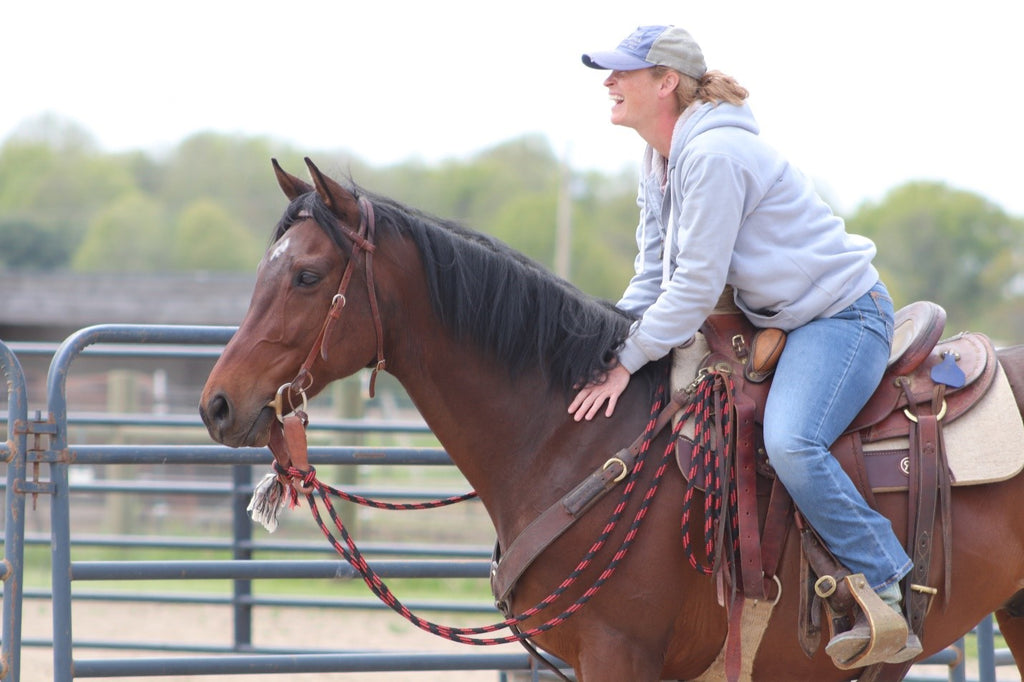 Erin Smith, pictured with her adopted Off-Track Thoroughbred, Vindication Alley.
Photo by Chelsey Burris
By Chelsey Burris
Friends of Ferdinand, Inc. (FFI) is thrilled to announce that Erin Smith has taken the reins as our new President.  Erin has been an avid volunteer with FFI for 7 years, starting as a foster and adopter, before eventually taking on a leadership role as Vice President of the organization in 2021.
Erin holds a degree in biology specializing in Dental Hygiene.  She has been a devoted practitioner on the north side of Indianapolis, Indiana for the last 20 years.  She considers her patients family and strives to continuously advance in healthcare for their benefit.  Erin joined Friends of Ferdinand knowing she had always wanted to advocate for horses in need.  FFI has allowed her to grow as a horsewoman and ambassador for the Thoroughbred breed.
In 2021, Erin adopted Vindication Alley (aka Vinny) from the Friends of Ferdinand program.  Vinny is famous among our program's graduates, as a member of our Ponies of the Caribbean Initiative, where FFI joined forces with Caribbean Thoroughbred Aftercare to bring horses home to the mainland from Puerto Rico.  Erin, who was recovering from a serious horse-related injury at the time, had her heart stolen by the Florida-bred Vinny, and the two have been inseparable ever since – going trail riding and attending clinics ranging from cattle to mounted archery together.
Erin has played an instrumental role in Friends of Ferdinand over the years, including her work on earning reaccreditation by the Thoroughbred Aftercare Alliance (TAA) each year over the last several cycles.  Erin's impact was also felt through her efforts to research and launch FFI's Broodmare Bunch program in 2021, with a goal of increasing awareness and adoption rates of broodmares looking for new homes when their time at the racetrack and as mothers has passed.  She is also ready to lead FFI into new areas of aftercare, including the upcoming launch of FFI's Pasture Pals.
"It has been exciting to be involved with Friends of Ferdinand over the years, and watch it evolve from a small, local non-profit organization with just a few volunteers into a nationally recognized racehorse welfare and advocacy organization, with broad-reaching impacts on Thoroughbred aftercare throughout the Midwest and beyond," Erin shared.  "The thing that I'm most proud of is our dedication to our horses, and their long-term health and happiness.  I am pleased to accept my new role as Friends of Ferdinand's President, and I look forward to sharing my passion for ex-racehorses and Thoroughbred aftercare for many years to come."
Friends of Ferdinand also wishes to thank outgoing President Sara Busbice, for her many years of tireless service as our fearless leader where she helped many, many ex-racehorses find their forever homes.  Our organization would not be where it is today without her valuable insights, experience, and leadership.  We wish her all the best in her future endeavors and are happy that she will remain a part of the FFI family as a volunteer. 
Friends of Ferdinand, Inc. (FFI) is a 501c3 non-profit equine organization that is dedicated to retired racehorses, and the only organization in Indiana that is accredited by the Thoroughbred Aftercare Alliance (TAA). Graduates from our program have gone on to have success in hunting/jumping, dressage, calf-roping, western riding, trail riding, and as therapy horses. We are run by a hardworking band of volunteers and assisted by trainers and veterinarians to give retiring racehorses everything they need to have long and happy second careers and lives.