A Cowboy And His Off Track Thoroughbred
A Cowboy And His Off Track Thoroughbred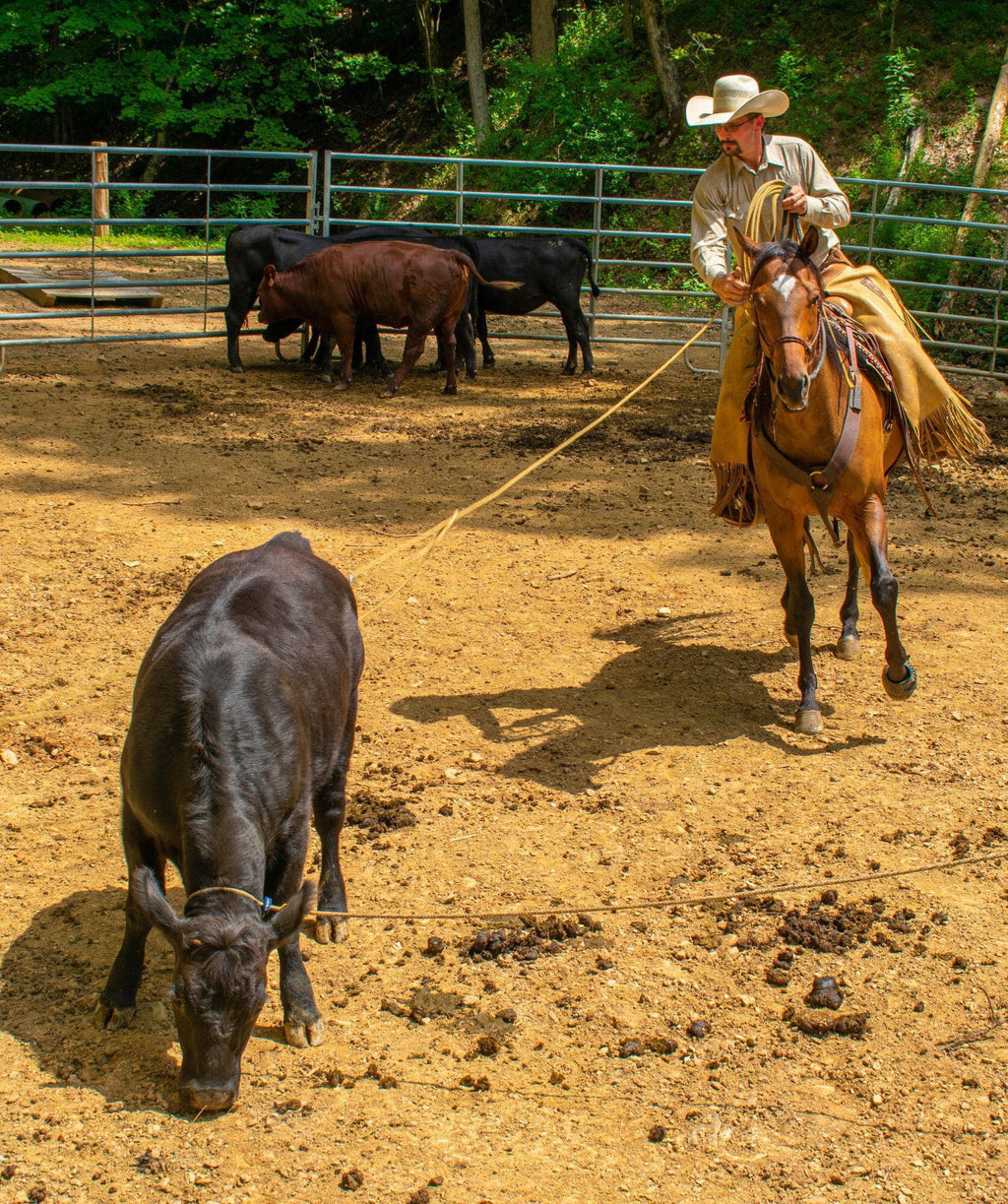 It takes a special horse to enter a trainer's barn and never leave. Hum Baby is just that type of horse. 
By Chelsey Burris
y Chelsey Burris.
Sometimes a horse comes through our program that is so special that even the trainer tasked with helping them start their second career just can't say goodbye to them.  This was the case with Hum Baby, a 2015 gelding who joined the Friends of Ferdinand, Inc. (FFI) program in May 2019.  Affectionately known as Hum, the Indiana-bred raced 4 times, with 1 win and 1 second place finish. 
Hum Baby was a winner on the racetrack. Photo courtesy of Richard Wood, breeder and owner of Hum when he was racing.
.
His owner retired him to Friends of Ferdinand to start his second career as a 4-year-old. Hum was sent to Brandon, our resident western trainer, to learn about trails, cattle, and ranch work in September 2019.  The cowboy was happy to have a new FFI horse in his barn after successfully graduating several others through our program so they could be adopted.  He liked the bay gelding immediately.  "My first impression of Hum was, 'I want him. He will make a good heel horse,'" Brandon recalls. "He was little then. And acting rambunctious in his stall."
.
Then and now: Hum Baby on the track in September 2018, vs in retraining with Brandon in late 2019.
Brandon started retraining Hum, working his cowboy magic on him.  Tarps, ropes, and long rides in the woods were all thrown at Hum in his first few months.  He handled things very well and soon graduated on to working with cattle.  The more they worked together, the more the OTTB and the cowboy built a bond.  Brandon's son would occasionally even ride Hum.  After spending the winter together, Brandon started to wonder if he could let Hum go to a new home.  "I had him approximately 6 months before I talked to Sara and Erin (FFI's President and Adoption Coordinator) about possibly keeping him," Brandon says. 
Hum playing with DoubleTheThunder, another FFI horse in retraining at Brandon's stable.
Although several potential adopters came out to Brandon's farm to test ride Hum, none of them seem to the be the right fit for him.  The COVID-19 pandemic reduced the number of adopters coming to visit, but Brandon and Hum continued to work together.  After taking him to some clinics and events, Brandon was more sure than ever that he wanted to keep the plucky bay gelding.  In September, a year after Brandon first met Hum, he decided to make it official and adopt him.
So what's it like having an OTTB as a ranch horse?  "Working on Hum is a blast," Brandon happily reports. "He's always looking for something to do. And he gives his all to it. He has a great work ethic."
Hum at a competition with Brandon
 The pair have been busy lately, trailering to West Virginia to different roping clinics and competitions.  Hum even brought home third place honors in one of his first team shows. 
Brandon has big plans for Hum in the future.  "Hum is in line to be my go-to horse. I'm planning to use him to start colts with. Work cows, load trailers, and rope. He enjoys a good trail ride too. He is hopefully going to be an all-around using horse."
The cowboy and his OTTB
From the racetrack to the roping world, Hum has proved himself a reliable and hardworking horse, and showcases the versatility of the OTTB every day!
It takes a special horse to enter a trainer's barn and never leave.  Hum Baby is just that type of horse.  We can't wait to see what the future holds for the cowboy and his off track Thoroughbred.   
Here are some more photos of the two of them together competing recently.