Home for the Holidays
Home for the Holidays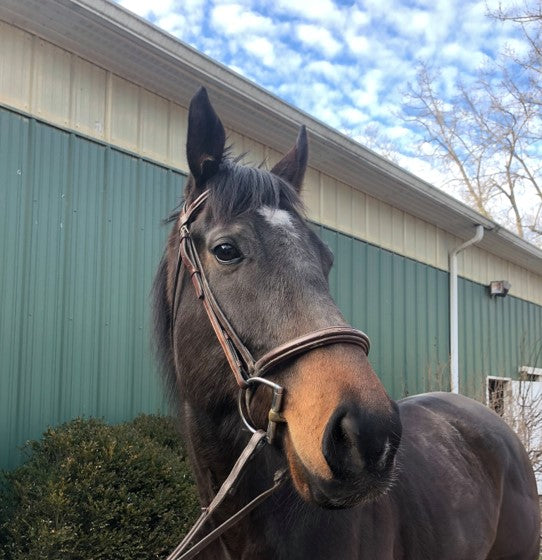 Successful turf racehorse finds a perfect retirement home before the holidays.
By Chelsey Burris
On a late March day in 2012, a dark brown Thoroughbred was foaled.  With a blue-blooded pedigree, there were many hopes on his shoulders to be a great racehorse.  His sire, Indian Charlie, was not only an awesome racer (he finished 3rd in the 1998 Kentucky Derby) but also a top stallion, with progeny like Uncle Mo and Indian Blessing.  The foal's dam, Visit (from Great Britain) banked even more money on the track than his sire – she was a multiple graded stakes winner, as well as Grade 1 placed.  It's no wonder Juddmonte Farms had selected this breeding, and the foal, named Western Reserve (barn-name Western), was set up for success as a racehorse.

Western as a foal and yearling, growing up at Juddmonte Farms in Kentucky. Photos by Joy B. Gilbert, and shared courtesy of Juddmonte Farms.
He started his career in Europe, and in his first 5 starts, he never finished off the board - he won 2 races, was second once, and third twice.  At the end of Western's juvenile season, he relocated to North America where he continued his racing career.  Running in Canada, Florida, New York, Kentucky, Louisiana, and Indiana, Western found success wherever he went over the next several years.  Among his victories were the Buddy Diliberto Memorial Stakes at Fair Grounds and the Warrior Veterans Stakes at Indiana Grand Racing and Casino. He ran in several graded stakes races, including a runner up effort in the Grade 3 Colonel E. R. Bradley Handicap at the Fair Grounds.
Western was a successful racehorse. Here he is winning the Buddy Diliberto Memorial Stakes at Fair Grounds in December 2016. Photo courtesy of Hodges Photography.
Western's laid-back attitude and great mind made him an excellent candidate for a long and successful racing career across the US.  He retired to the Friends of Ferdinand, Inc. (FFI) retraining program as a 7-year-old, and spent some time rehabbing from a minor injury before being restarted under saddle.  
Western was popular during his retraining with Friends of Ferdinand, especially because of his sweet personality. 
Many of our horses go on to have second careers as hunter/jumpers, dressage horses, or western horses.  However, as we started him under saddle, he was telling us something else.  His lengthy racing career was catching up with him, and he was going to be more comfortable in a non-competitive home.  Everyone in our program had fallen in love with him; he was so sweet and such a gentleman. We just needed the right adopter to come along who would love him for how special he is, and give him the retirement he so deserved.  
Enter Tonina L. from Ohio.  She had recently lost her elderly Saddlebred, and was looking for a new companion for her Mustang, Shappa.
"Since losing my Saddlebred unexpectedly, and seeing my Mustang stressed and lonely, I knew I needed help," she says.  "I reached out [to Friends of Ferdinand] and made an appointment to go see Western. I knew I needed a male who was going to keep up with my Mustang and one that was younger who wouldn't take her - excuse my language - sh*t."
.
Watch Western strut his stuff on the track! Here he is romping in the 2017 Warrior Veteran Stakes. Video courtesy of Indiana Grand Racing & Casino.
.
Tonina took Western on trial, and it was a great match. "He has given her a run for her money," she shares. "They have their tiffs and become friends again within seconds."  After the trial period, she made it official by adopting Western.
It is rare that an organization like FFI gets an application from someone seeking a horse who isn't looking for a competitive second career.  Tonina came along at the perfect time for Western.  Now named Onyx, he is getting to start his retired life just in time for the holidays.  
"His new life is very easy," Tonina shares. "He gets to romp around in the mud and have free range of whatever he wants to do. He can go into the barn where he has a heat lamp to keep the chill off, or he can stay out in the paddock and wander around with his new friend, Shappa."
Her experience with adopting an ex-racehorse was very positive.  "Thank you to Friends of Ferdinand and Greenstone Stables, especially [FFI head trainer] Lori, who was amazing," Tonina says. 
Onyx is fully retired now.  "He no longer has a saddle on or anyone who will be riding him," Tonina says. "I can tell he is happy; when he sees me walk out in my Carhartt, he gallops to the fence making a ruckus."
Western with his new Mustang friend, Shappa.
As Tonina's first off-track Thoroughbred, Onyx has been a great ambassador for the breed.  She is already smitten with his good looks and even better disposition.  "Onyx has a personality like no other.  He is gentle and loves the hugs, brushing, and attention he gets. His beautiful coat shimmers with the little snow fall we have had. He is learning about me, my voice, and trust. He gets to experience new surroundings here, sounds, foods, and peppermint candy."
Racehorses live a busy, fast-paced life with a lot of structure.  Slowing down has been an adjustment for Onyx.  "He is still getting accustomed to free living and retirement," Tonina tells us.  "He is still unsure about going in and out of the barn at his own pace, but I know he will understand that it is free will. He can decide what he wants to do and when he wants to do it. He did his job and did it well. So, what Onyx wants, Onyx gets." 

Muddy, happy, and enjoying retirement.