One of the First – Catching Up with Swift Road
One of the First – Catching Up with Swift Road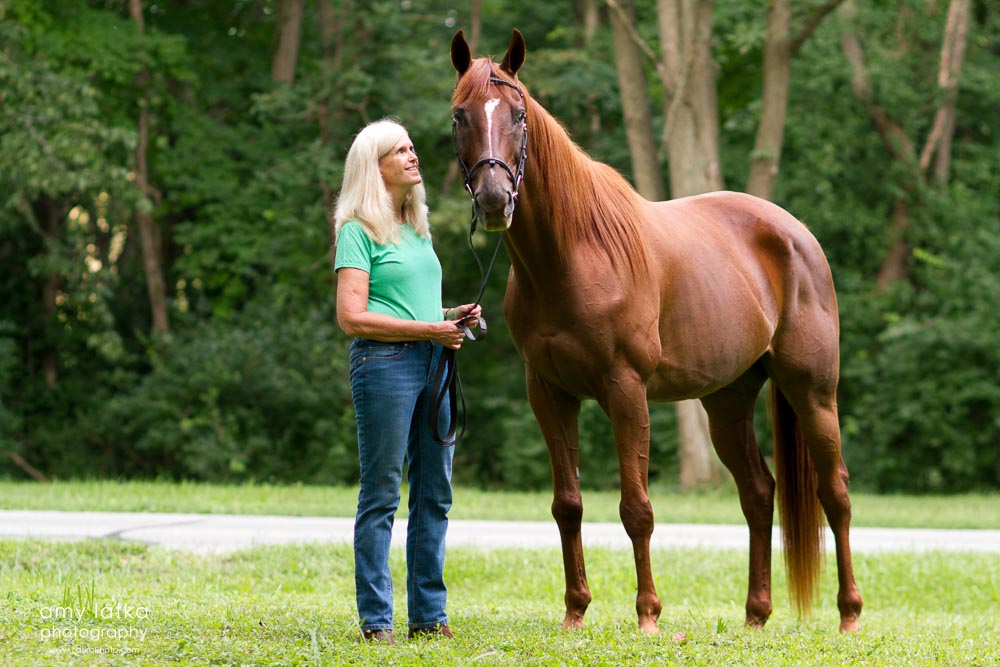 Remember him? Swift Road graduated from our program way back in 2007, which was only 2 years after Friends of Ferdinand was founded.  His owner, Linda, shares what this guy has been up to in their 13 years together, as well as her advice for anyone considering adopting their own OTTB.
By Chelsey Burris
How did you come to have Swifty?
 In the late fall of 2007, a bunch of horse people, including Sara Busbice, were having Friday night dinner out.  Sara mentioned that there was a wonderful horse  who needed rescuing, but that she only had until Monday to collect him.   Friends of Ferdinand Inc. (FFI) was short of money and had no way to get him.  Several of us pitched in some money; Sara found someone with a trailer willing to go get him and Swifty made it home (to Kim Johnson, a foster) before his Monday deadline.  He had injured his knee racing in 2006 and had surgery on it.  He was rested the rest of the season, but the next season (2007) he could not race again.
 We continued to contribute to his foster care for a few months, then decided we should go meet this horse we were helping to feed.  He was a real pistol!  He was turned out with another FFI OTTB, playing and fighting.  I tried to brush him, and he tried to cow-kick me!  We continued to visit, and Sara asked if I wanted to ride him.  Well, yes!  I'd never ridden a racehorse before!  Not long after, we decided we'd foster him.  We immediately took him for a month of training.  When he came here, Dr. Angie came to vet him and look at his bad knee.  She advised us that his knee had some chips still in it and that they might cause him some problems.  Also, that the knee would eventually fuse, and he would not be able to lie down and get up.  We would have to put him down.  Probably within 3 years.  She also advised us to give him Cosequin ASU and Glucosamine/Acedyl-D - which we have, faithfully.  It only took a little time before we decided we needed to adopt.  He's still around - 12 years later.
 What are some of the things that he's been up to since he's been with you?
 Once we got him home from his training, I started to ride him.  I heard that Linda Hiney was giving lessons, so Swifty and I began dressage!  He is such a smart boy and picked it up very quickly.  Much more quickly than I did.  We still play around at it.  Other than that, he now thinks he's a Quarter Horse.  Very much a herd horse.  Loves to be dirty.  He still loves to race around the pasture, trying to get the others to play.  He's just a regular horse now.
 Any advice for someone who might want to adopt an OTTB?
 Don't be afraid to adopt!  The racehorse experience made them "people" horses and they will love you and crave attention.  I remember thinking several times, "What have I gotten myself into?!"  and "What am I doing with a Thoroughbred?"  But it's all worth it.  The FFI horses I've met are all so smart and playful.  Just read up on what the racehorse experience is like, how they are brought up.  It will help you understand how they will react.  I know Swifty doesn't spook at much - and never the things you'd think, like running bush-hogs, motorcycles, peacocks.  It took him awhile to adjust to a big pasture, and other horses in the same paddock, too.  
 What about advice for someone unfamiliar with Friends of Ferdinand?
 I try to tell everyone about this wonderful opportunity for ex-racehorses.  How the horses are vetted, given time to settle in, then basic training so that when they are made available, they are really ready to go.  FFI really does it the right way.
  Any fun stories or silly things you'd like to share about Swifty?
 Swifty wants to be involved with anything you are doing around the barn or pastures.  He will swipe tools out of your pocket, out of the back of the truck - even from inside the truck cabin.  He's tried to walk off with the post-hole diggers!  He is also the stealthiest horse I have ever been around.  For being 16.3h, he can sneak up on you and stick his muzzle in your ear before you know he's there.  He certainly has a big personality.