Once An FFI Horse, Always an FFI Horse
Once An FFI Horse, Always an FFI Horse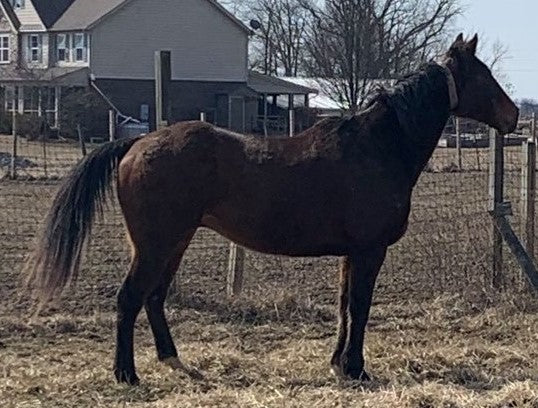 The inspiring story of one of our program's first graduates coming back to us at age 22, and finding a new home!
By Chelsey Burris
Friends of Ferdinand, Inc. (FFI) prides itself on our dedication to our horses.  If one of our graduates who has been adopted out ever needs to return to our program, due to changing life circumstances for the adopter, a health or behavioral issue, or any other reason, our barn doors are always open for them.  This typically happens when a horse has only been out of our program for a year or two…but what about when we haven't seen the horse in well over a decade?  Enter Mr. Bartlett.
Mr. Bartlett, affectionately known as Mr. B., was foaled way back in 1999 (making him old enough to drive, vote, and drink, if he were a human!)  He was bred at Swifty Farms, one of the top Thoroughbred Farms in Indiana, and he raced 29 times, with 4 wins, 4 seconds, and 1 third. 
In late 2006, his owners, Wendy and Dewitt Brown were ready for him to retire.  Friends of Ferdinand had just formed the year before, so we were very new to the racing industry.  Wendy wanted to ensure her horse was going to be safe, so she asked if FFI would take him. (As a fun fact, Wendy is now a member of the Friends of Ferdinand Board of Directors, and has been an active supporter and Board Member for many years!)

Enjoy this great throwback video of Mr. Bartlett from 2009, when he was originally in the FFI retraining program.
Mr. B. entered our retraining program and quickly proved that he was sensible, sweet, and a lot of fun to ride.  A lady named Erika adopted him originally, and he went to live at her home near Kokomo IN. for several years.  While Erika had Mr. B, she fostered several other horses including one named Jimmy.  In another interesting twist of fate, the person who came to the farm to meet Jimmy and eventually adopt him was none other than Heather Hoffmann.  Meeting Jimmy and Mr. B. was Heather's first introduction to our organization – and she became passionate about our mission to retrain and rehome ex-racehorses!  (She has adopted 4 FFI horses over the years, and currently serves on our FFI Board of Directors, as well!)
FFI President Sara Busbice riding Mr. B. in 2009

Due to some unexpected life changes, Erika had to sell her farm a few years later, so Mr. B. was welcomed back into our program to look for a new owner.  He went to a couple of different foster homes in the meantime, while we looked for the right fit for him – including one farm where he got to be involved in their lesson program.  He was always a classy gent, and we knew he'd find a great home.
The right owner came along shortly after – she was a well-respected trainer looking for a trustworthy equine partner.  Mr. B. fit the bill exactly!  "He's not much to look at, but he's safe," FFI President Sara Busbice recalls telling her. 
Mr. B. went on to spend the next 10+ years with this adopter.  As he grew older, so did she.  As a senior horse now in his 20's, his adopter was struggling to be able to care for him due to her own health issues.  But what does one do with a 22-year-old gelding, who is best suited to be a companion horse and not a riding horse at this point?
She called up the Friends of Ferdinand team, letting us know her concerns about caring for him, and that she needed our help.  It had been so long since we had seen Mr. B. that many of our current FFI volunteers didn't even know him – he had been way before their time.  But of course, we were ready to welcome him back into our barn!
FFI's Vice President Erin Durham and our resident western trainer Brandon Fortner drove out to the farm to pick him up.  They weren't sure how he would react – it had been years since he had been in a trailer.  However, he loaded up with no fuss and was taken to the clinic for a thorough evaluation.  Our vets found him perfectly healthy to be adopted out to a new home.  And after we gave him lots of treats and attention, we were ready to start looking for the perfect landing spot for him to live out his senior years. 
Sara started the search with a simple Facebook post, letting her friends know about a very special older gelding looking for a forever home.  Susan S., a long-time FFI supporter and a lifelong horsewoman, saw Sara's post.  She and Sara had recently reconnected; Susan is a three-time breast cancer survivor, and our President had just recently received the dreaded diagnosis herself.  Sara shares that, in the back of her mind, she really hoped Susan would respond to her post, and that if she did, it was meant to be.  Later that day, Sara got a message in her Facebook Messenger inbox - Susan was indeed interested!  "I decided to respond, even though I told myself I would not get another horse until after winter; going into winter and getting a horse is just crazy," Susan remembers.  "But what can I say, he's a Thoroughbred, he's a bay, he's just a sweetheart, and I had a lonely pony who would be thrilled to have a friend."
Mr. B. enjoying a nice day of spring weather at Susan's house

Mr. B. seemed to have come around at the perfect time for Susan.  "Back in December, I had to put my 28-year-old mare, Wendy Hill, down due to complications of granulosa-theca cell tumor that we'd dealt with for the last three years. She lived here at my home for 22 years," Susan explains.  "I also house my granddaughter's Quarter Horse pony, Lucky.  Lucky had been with Wendy Hill for 6 years and the loss of her friend left her lonely and depressed." 
Around the time Susan was scheduled to come meet Mr. B., a brutal snowstorm hit Indiana, but that didn't deter her.  She made her way to the clinic with Sara to meet him, and like all of us, she of course fell in love with him! 
Susan is no stranger to Thoroughbreds.  "My mom and I had a small racing business in early 2000," she says.  "I have had Thoroughbreds for a number of years."  However, Mr. B. was her first FFI horse.   
Bringing him home has been an adventure.  For the last 10 years, Mr. B. had lived outside, so getting him used to being inside a barn has been challenging.  "Days after his arrival at my farm we had record snowfall," Susan shares. "Coupled with the fact that Mr. B has barn PTSD, he wants to be outside. I'm that mom who always kept them in a nice dry stall at night, they get fed breakfast and dinner inside, heated water bucket, nothing fancy but better than being out in the cold, windy, snow 24/7.  Yes, I have a lean-to, but he was still trying to decide if he should go in there.  I have to admit, it was a struggle for me to change how I've always done horse-keeping, especially mid-winter.  As spring is unfolding and mud season is in full bloom, we are still navigating all the headaches that good old Indiana weather hands us."
Susan is learning more and more about her new horse all the time.  "I use my Ranger to deliver their feed out in the pasture and so he is well versed that when the Ranger is started here comes my food.  He loves to greet me in the Ranger and has decided self-service is much faster."
Mr. B. enjoying the "self-service" of Susan's Ranger

For those considering adopting a Thoroughbred, Susan has some advice. "Adopting from FFI was one of the most amazing experiences, I actually thought to myself how nice it would be if all horses could be acquired this way."  
Susan can't wait for warmer weather to come to Indiana, so she can have a chance to spend more time with Mr. B. and learn about this very special gelding, who has quite a funny side.  "Horses are in my blood and are also wonderful therapy for me," Susan shares. 
Mr. B. now gets to live a quiet life, enjoying lots of time outdoors, hanging with his new best friend Lucky, and getting plenty of love.  In one final amazing twist of fate for this gelding, his new home is now directly across a cornfield from Wendy Brown, his old owner when he was on the racetrack who donated him to FFI so he could have a long and happy life.  He's so close that she can come visit him anytime.  What a small world! 
Mr. Bartlett has meant so much to our program, helping to introduce multiple FFI Board Members to our critical work to help ex-racehorses find second careers.   We are thankful to continue to be a part of his journey, and to prove that once an FFI horse, always an FFI horse! 
Life is good! Mr. B. napping in the sun on a sunny spring day
Update: March 21, 2022. Watch this heartwarming update about Mr. B. as we celebrate his 23rd birthday today!