On Tour with Aprilia
On Tour with Aprilia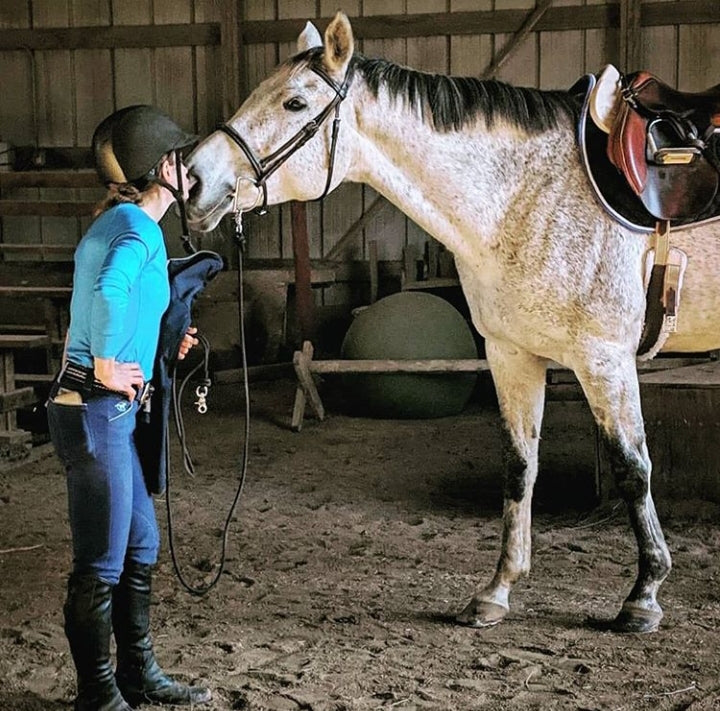 The gorgeous gray Aprilia on Tour has been up to some exciting things!
By Chelsey Burris
Aprilia On Tour (aka Aprilia or April) was always a head turner.  She is a flashy gray, and just has that way of carrying herself that catches your eye.  She was bred in Indiana by Christine Cagle, and named by Christine's husband after the aerodynamic Aprilia car. As a yearling, she loved beer and a good scratch on the rump.  She raced throughout the Midwest but didn't have much interest in being a racehorse. 
Retired sound, Aprilia joined Friends of Ferdinand (FFI), and was sent to Greenstone Stables near Dayton, OH for her retraining.  With her formerly dark coat now graying out, Aprilia learned the basics of life beyond the track.  She was easy to work with, quickly checked off all boxes, and was ready to be listed as available for adoption.
 For her adopter Melanie, meeting Aprilia was an unexpected blessing.  She drove out to the farm to meet another FFI horse she was interested in, unaware that Aprilia was even available.  Lori, head trainer at Greenstone Stables, mentioned that there was another horse on the farm Melanie might want to meet. "The horse I had gone to see didn't work out, so I figured I why not go for the gray mare?" Melanie remembers.  "I never even got the chance to ride her, but I was comforted by the 30-day trial period and Lori's continued endorsements of Aprilia.  I am so thankful that the horse I originally had my heart set on did not work out because that meant I ended up with April and she has been the coolest, smartest, most willing partner and has exceeded my expectations in everything I have trained her to do."
Aprilia has truly shined with Melanie.  "We finished our 2018 show year winning Overall Reserve Champion in the Kentucky Hunter Jumper Association (KHJA) Thoroughbred Hunters division!" Melanie happily reports.  "We had to take 2019 off from showing to address some hoof sensitivity issues but after getting her on some good supplements, good turn out, and a great farrier, she is finally healthy and jumping again.  I'm really hoping to get back into showing in 2020!  In the meantime, we still have tons of fun hacking around and jumping sticks at home and at local schooling rings."
 For anyone considering adopting an OTTB, Melanie has some advice. "I would highly recommend Friends of Ferdinand because of the 30-day trial period and the support of the staff.  I would also say to keep an open mind to all the horses available because you never know which one could be your 'happy accident' like April was mine.  For anyone willing to put in just a little more time and work, the rewards can be so amazing.  I'm always thankful Aprilia was not a 'finished product' quite yet because that meant we got to develop a style together!" 
She continues, "When I ride her, she knows exactly what I'm going to do, and I know exactly what she is going to do because we have gotten so in sync over the years (which is especially important when jumping).  I trust April over every fence, and she has never let me down!  That's the kind of bond you can only get when you build something together from the ground up which is what adopting an OTTB is all about!"
 Our congrats are to Aprilia and Melanie, and we look forward to many more happy updates from them in the future.