A Patriotic Adoption!
A Patriotic Adoption!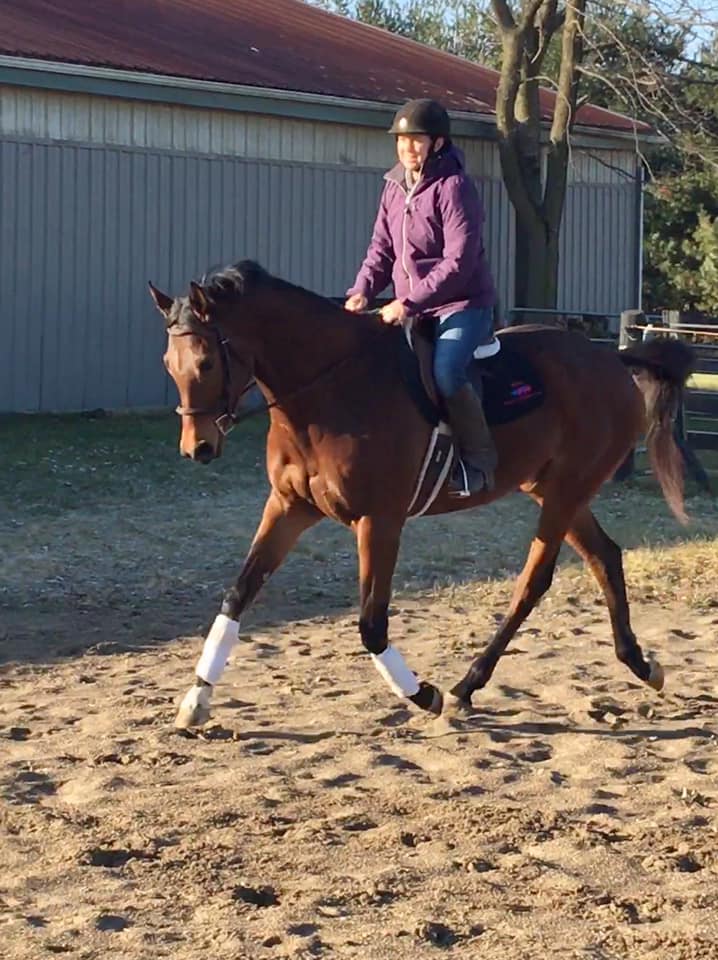 I've fostered off and on for 9 years now. Some just pop in for a little down time, some stick around through training, but it's never been easy when it's time for them to leave. Actually, it's usually the horse that we have trouble with! There was Legend - he stayed an extra month and I even fed him out of the trailer to get him better at loading. He eventually made it to his ever so dedicated adopter and they had a great partnership started the right way. There was Korbyn - he broke the trailer even though he had retirement pastures waiting for him. But Preacherville took the cake. The first time I tried to take her for a trial ride I got my SuperDuty truck stuck in the mud to find out my 4x4 wasn't working. Then after a humorous, desperate effort to get out with boards and other things under my tires I lost her while I was loading. As much as I know all she wants is friends and food my stomach drops when they head toward the road. Then after an easy load I literally get 1 mile from my house and *boom* I get hit by someone pulling out without looking. All things considered - not a scratch (on the horse - that's all that matters). So we head home.
And on July 4th I did my American act and signed the adoption agreement! This girl was going to be mine. My first FFI adoption after helping many navigate their way with FFI. While that's not a big story, that's the happy ending.
Preacherville came to me from a good hearted breeder that contacted us as soon as the mare was in trouble. In early 2017 Preacherville nearly died from complications during delivery. Her owner knew she could never be bred again and that FFI would find her a match. They cared for her until she could have some follow up surgery and she was delivered to me after her surgery. I had green pastures waiting for her and a kitchen full of mashes and medicine to get her through her rehabilitation. This 17h OTTB was too excited though to just stand and stuff her muzzle with grass. I can't tell you how many times she'd high step while grazing and get over her lead rope. It was amazing, but I wanted to get that good untouched grass in her. And she was not doing her business enough, so we had to do some tricks. Yes, there were some late night check-ins and early morning starts with walks (including to the bus stop), phone calls to her past connections, vets and a worried foster mom. I even hand cut our hay field to feed her in her stall! But she ended up back in the hospital…. For days…. We rallied our supporters and with the vet teams taking the reins she was in good hands. I am also thankful to our own Erin who did the hauling as I'm not sure I would have had dry eyes taking her there. We weren't sure, but this super girl pulled through. Phew, so she came home and she was given her name, Aviva. For anyone with littles you may recognize this namesake from the WIldKratts show with the engineer lead female, Aviva. From there she has filled the shoes of a smart leader. She's seriously the hardest horse I have ever ridden, but she's also the coolest horse I've ever ridden. I have a few things going on in my life, so we ride twice a week, so the training moves a little slower. And I swear the weather can change between each ride almost every week, so we have some highs and lows getting through all the new experiences, but I am always so proud of her when she 'gets it'. That is a good feeling that carries you through the next time you have to go back to the basics, again. That and well she is very pretty.