Indy's Adventure: The First 90 Days
Indy's Adventure: The First 90 Days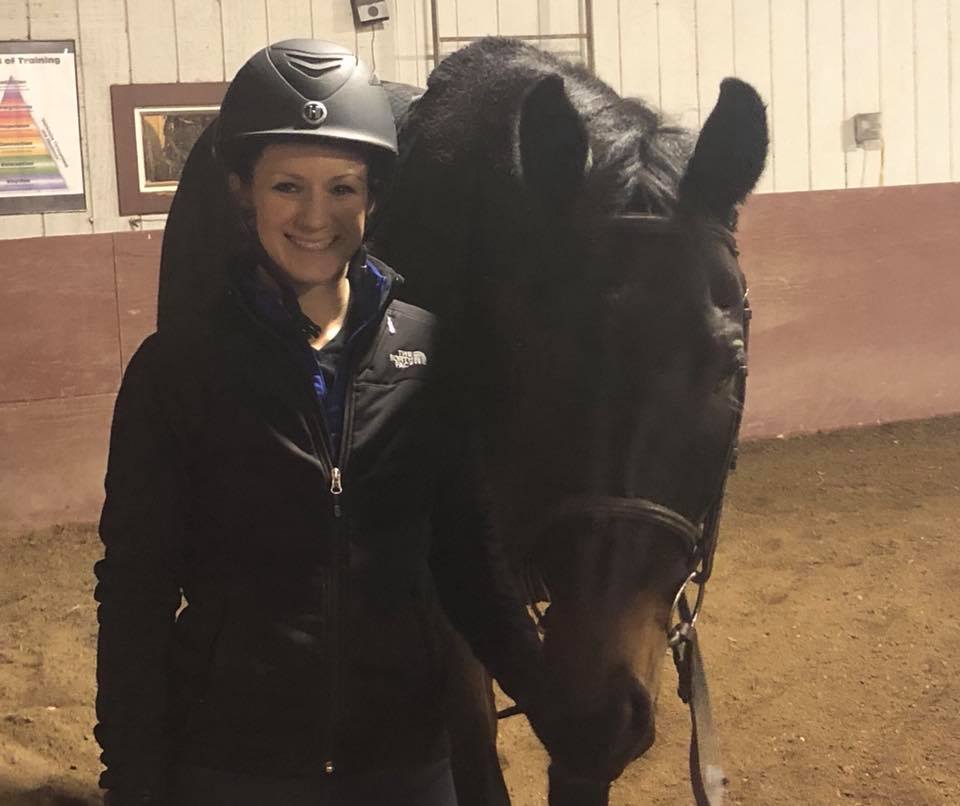 Indy's Adventure: The First 90 Days
By Annie Cornett; Indy's Mom and Biggest Fan
Adopted December 2017
In the fall of 2017, I decided it was time to add another horse to our family-- and since I already owned, showed, and loved another OTTB, I knew that I wanted to give another a loving, long term home. For those who have had the honor of owning an OTTB you get why they're so unique – they're smart, sensitive, and adaptable. Many have had their basic training solidified and are ready for that new career. I have spent the last 4 years competing as an adult amateur in dressage and have seen the enormous benefits the training has provided for my current competition horse, and was excited to be able to share that journey with another who deserved a home and second career.
Indy joined our barn family not long after Thanksgiving 2017 for his 30 day trial (the trial is one of the incredible perks of FFI's program!) and we wasted no time learning everything we could about his personality and temperament. Time after time he continued to impress. Ride inside while the herd was out – no problem. Explore the outdoor arenas alone – no problem.  Share the arena with 3 other horses cantering around us – no problem. So needless to say at the end of the 30 days Indy received the thumbs up and a Christmas bow!
Over the last 60 days we've spent considerable time with Indy working on lunging and ground work. The time spent on helping him to find balance and relaxation in all 3 gaits without a rider first has been essential to improving his work under saddle. He's finding the ability to mobilize his shoulders and haunches, bend on his own, stretch over the topline, and explore how to correctly move his body on the circle. We've also introduced a variety of natural horsemanship principles and techniques to focus on his mental training in addition to simply the physical aspects.
Under saddle he's learning to stay focused and maintain a consistent tempo all while staying relaxed and stretching towards the bit. I continue to work with him on understanding and responding promptly to basic leg and seat aids and navigating changes of bend through pattern work in the arena.
Like many OTTB's Indy has also been working through muscle rigidity and tightness as he learns new ways to move his body. He's received Masterson Method Bodywork sessions to help ensure he maintains full range of motion and to resolve tension resulting from his new training regimen.  
Indy's 90 Day Goals:
Relaxation
The horse maintains a calm disposition throughout the course of training.
The horse's muscle tension decreases allowing range of motion to increase and the horse to achieve free, forward movement and longitudinal suppleness.
Bend
The horse is able to position his nose in between the shoulders and follow the arc of the 20m circle.
The horse's haunches maintain position on the arc of the circle, with the inside hind leg consistently stepping under the centerline of the body.
The horse bends consistently at the rib cage maintaining the body position on the arc of the circle.
Transitions
The horse transitions up and down between walk, trot, and canter in a balanced and relaxed manner.
The horse maintains focus on the handler/rider and promptly responds to cues. 
Rhythm
The horse maintains a consistent forward-thinking rhythm in the walk, trot, and canter.
By focusing initially on slowly providing a basic foundation, our goal is to ensure that Indy develops a mentality towards training that is agreeable and that continues to develop the willingness and "try" he already shows us with each session. I look forward to continuing to build Indy's confidence and strength over the coming year and am excited for the show season ahead. Our goals might be small at first, but in taking the time he needs to acclimate and become accustomed to the environment and concepts being asked of him I hope to create a horse that enjoys the experience as much I do.
We are also very excited to have Annie helping put out our quarterly newsletter, so be sure to subscribe!