Our very own celebrities: Ella and Bisque
Our very own celebrities: Ella and Bisque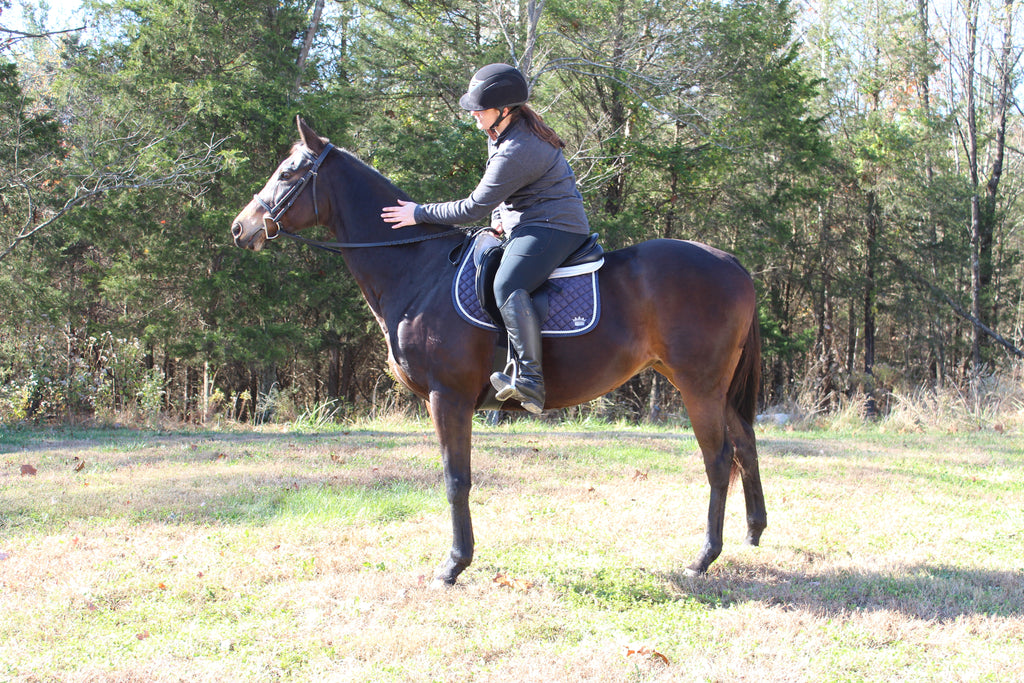 Maria Sikic adopted Sea Dar in 2012, and recently attended the Tony Stewart Foundation media day with fellow FFI alumni Bisque and his adopter Heather. Check out an update on Sea Dar (now Ella), and their experiences at the TSF media day. 
"Five and a half years ago an amazing little mare came into my life. Ella Acappella, formerly Sea Dar/Darcy, has a personality that more than makes up for her 15.2/15.3 hands of height. When Ella first came to FFI, she was an anxious little 3-year old filly with an infected, chicken egg-sized bump on her nose that required surgery. FFI's grant from the Tony Stewart Foundation is what funded her medical care and gave her a shot at a second career.
Being a mare and on the smaller side, Ella was at FFI for several years before my cousin Anna and I adopted her. We've had quite the adventure learning how to event together and there really are no words to adequately express how much Ella means to me, how much I appreciate and love every little quirk of her personality. When Ella and I started our Eventing journey, I remember thinking how big and scary the beginner novice xc jumps looked. Beginner novice was our big goal and I didn't even consider the possibility that we could even complete a novice one day. This year we moved up to the Novice level in USEA competitions. We ended our season by jumping double clear in show jumping and xc to finish on our dressage score at Jump Start Horse Trials at the Kentucky Horse Park.
I remember one show where we had a refusal at a 12-inch tire jump and then a 10-inch railroad tie jump two times in a row to get eliminated at starter. Now we are aiming for a Training 3-Day. Now Ella is a little cross-country machine (just try making her walk in the warm-up…), pulling me to the jumps, and as long as I stay out of her way, she takes care of the rest. Every time I fail to see a distance she steps right in and saves it, somehow managing to keep the rails up.
From the little filly needing surgery to the treat-loving diva that she is today, a lot of people have played a part in making Ella's second career the success that it is. Just when I'd promised Ella we were done travelling for the year, FFI invited us to Tony Stewart's place for a media day with several of the charities that the Tony Stewart Foundation supports. Obviously, it was pretty cool meeting Tony Stewart and seeing his garage full of cars - race cars, classic cars, I-don't-even-know-what-type-of-car-that-is cars. I had jokingly been telling Ella that she was going to be a celebrity that day, but when we arrived we had our own little paparazzi waiting for us. Four or five cameramen swarmed us and started snapping shots as soon as we pulled in. Who can blame them? I still swoon every time I see that face.
We were filmed and photographed for about an hour and a half, along with another FFI alumni and now fellow celebrity, Bisque. Ella and Bisque were thrilled when we moved from the worn patch of grass over to the lush green patch near the front gate for our interview with Tony. We then did a couple shots with the folks and dogs from Prison Greyhounds. With the help of a peppermint wrapper we got Ella and Bisque to stop munching on grass and look up for the cameras. I think Ella quite enjoyed her 'celebrity' status, as person after person came up and wanted to give her a treat.
I really enjoyed meeting some of the people who played a major role in kickstarting Ella's second career and I am incredibly grateful for everything FFI and TSF has done for Ella, along with all the other horses and animals that they help. 'Thank you' doesn't do justice to how appreciative I am of the positive impact Ella has had on my life. Seeing Ella transform into the bold, confident team mate that she is today has been incredibly rewarding and I am beyond proud. Even when her days of competition are over, and we have no more goals to strive for, I will still be just as excited to spend time with her, butterflies forming in my stomach as I go down the driveway to the barn."
Check out the photos from the day: